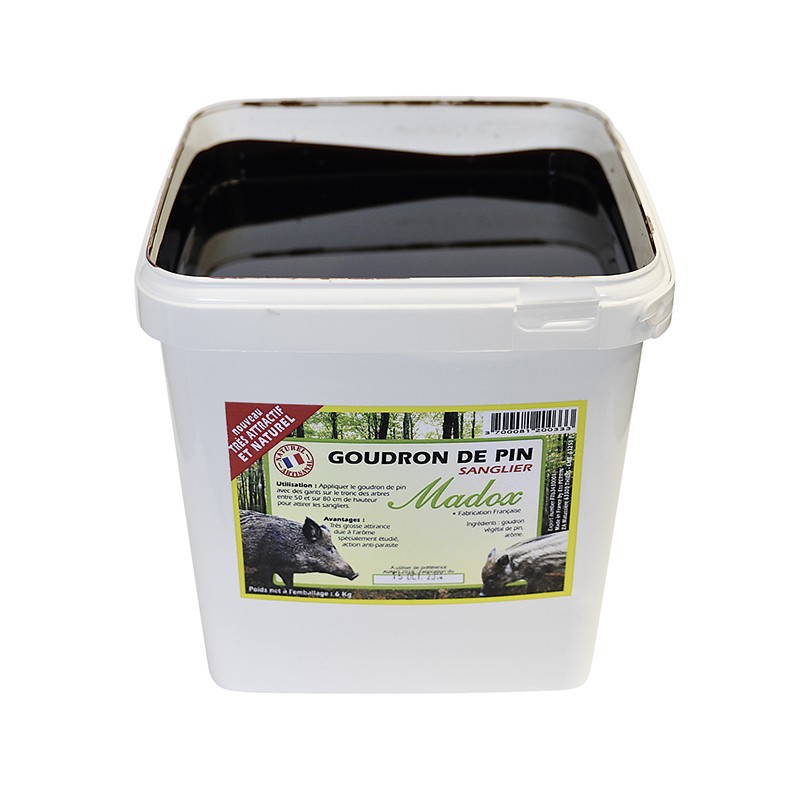  
GOUDRON DE PIN SANGLIER MADOX
Product made in france,
100 % natural for boars in hunting areas.
It combines strong attractive and anti parasitic action
100 % natural product. 

BENEFITS: 
MADOX Pin Tar is all natural with Attractive power
It comes from the carbonization of maritime pine.
It has a very attractive to wild boars and deer, reinforced by an aroma specially developed 
Its anti parasitic action increases this attraction 
USE:
To be applied to the trunk of trees between 50 and 80cm height, preferably in a place already visited.
Repeat the process from the onset of animals.
RECOMMENDATIONS:
Required gloves, do not expose to heat, keep out of reach of children,
Keep safe from food and beverages, do not eat, drink or smoke during use
Avoid contact with eyes, keep container upright and closed
Resealed after use, do not reuse packaging
INGREDIENTS:
PIN TAR VEGETAL, AROMA
PACKAGING:
6 kg bucket
Pallet of 120 buckets
Data sheet
Product Type

Pâte

Usage

Vegetal Food

Gencod

3700081200333

Ref

00333

Unit

Bucket

Packing

Non

Nb Unit per palette

120