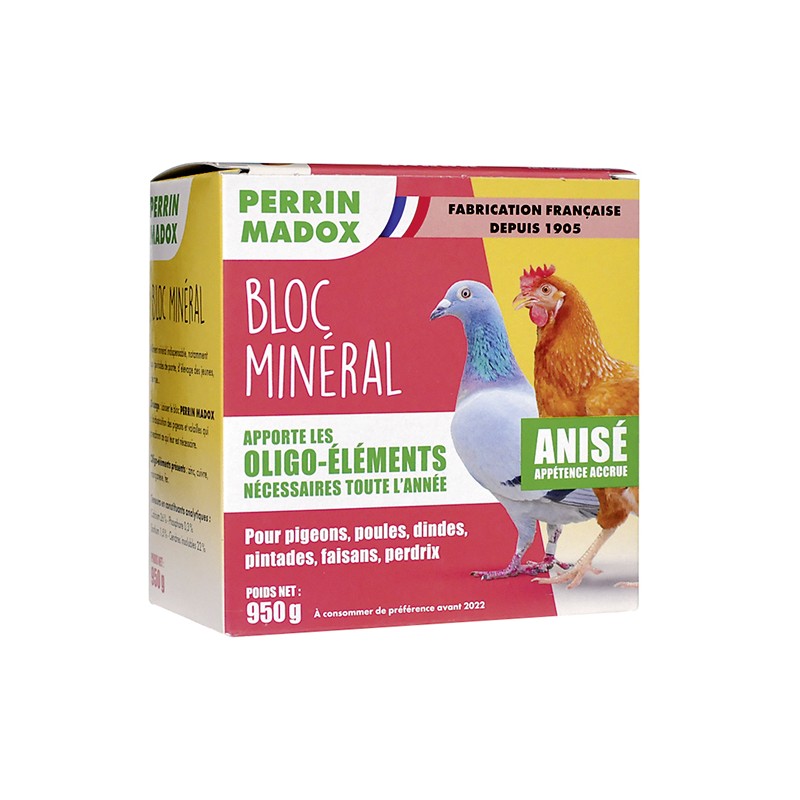  
MADOX ANIS BLOCK
Mineral food for pigeons, birds and poultry.
Mineral food for pigeons and poultry.

USE:
Self service for pigeons, poultry and birds and they will consume the necessities, or give 20g  per bird daily after disaggregation.

INGREDIENTS
Crushed seashells, calcium sulfate, di-calcic phosphate , calcium carbonate, sodium chloride, Vitamins

CHEMICAL ANALYSIS :
27% calcium, 0.3% phosphorus, 2% sodium, 15% insoluble ashes

PACKAGING:
Blocks of 950 g anis flavored – package of 24 blocks  -pallet of 960 blocks (= 40 packages).

BENEFITS:
Mineral needs met throughout the year and especially during spawning, the formation of the skeleton of young, and moulting.
Data sheet
Product Type

Mineral Block

Usage

Mineral Food

Gencod

3700081200012

Unit

Block

Nb Unit per palette