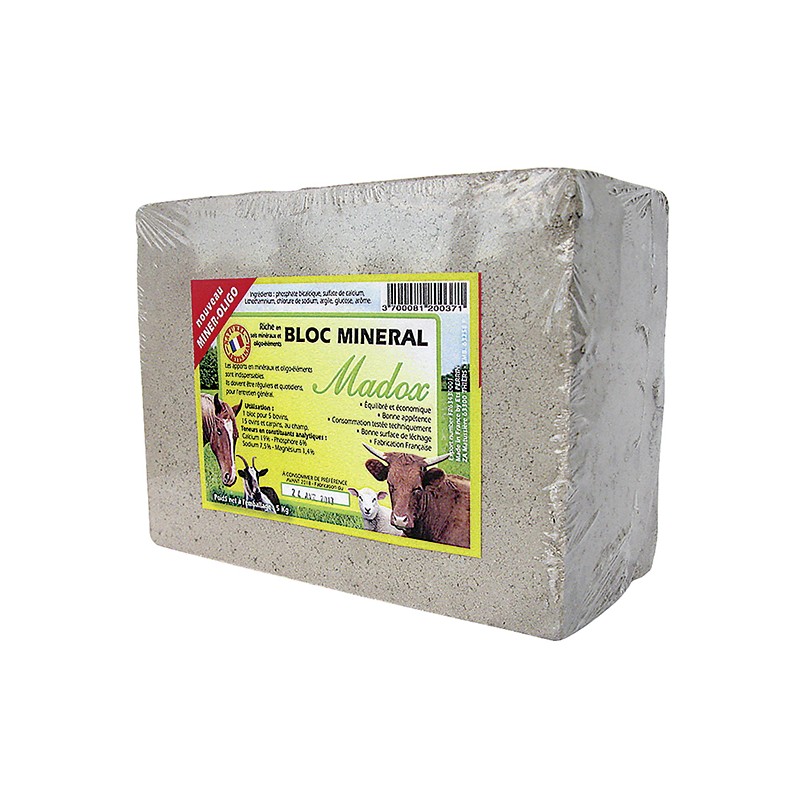  
MINERAL MADOX BLOCK ANY ANIMALS
Mineral block for any animals , very hight in mineral salts and trace elements. 
MINERAL MADOX BLOCK FOR ANY ANIMALS

BENEFITS :     
Rich in mineral salts and trace elements
Calcium, magnesium and phosphorus needs met throughout the year

USE:
Place the MADOX block in self service for animal, they consume it according to their individual requirements.
Monitor consumption early days

INGREDIENTS:
DI-CALCIC PHOSPHATE , CALCIUM SULPHATE, LITHOTHAM,SODIUM CHLORIDE, CLAY, GLUCOSE,  AROMA

CHEMICAL ANALYSIS:
21 % CALCIUM      8 %   PHOSPHORUS      
6.8 %   SODIUM   1.6 %   MAGNESIUM

PACKAGING:
5 kg blocks
box of 4 blocks, 
Pallet of  240 blocks.
Data sheet
Product Type

Mineral Block

Usage

Mineral Food

Gencod

3700081200371

Ref

00371

Unit

Block

Packing

Non

Nb Unit per palette

240